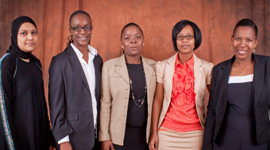 Mission
Our mission is to be a competitive, responsible and innovative accounting firm that ensures value for money and transfer of skills in all services rendered.
Our Vision
Our vision is to strive for service excellence.
Background
MBS Group (MBSG) Pty Ltd is a Company formed by the association of various companied bringing their resources and skills together to provide a 'Turnkey Business Solution" to both the public and private sector. registered on the 23 September 2013 registration number 2013/176422/07 and is Black managed and controlled. This company came into being as result of the founder member; Bongani Bhekuyise Mdletshe who is the founder member of Guarantee Trust Zululand cc more recently Trading as Mfuyi Investment Holdings Pty Ltd who had a vision of assisting small and medium sized companies and Government Institutions with accounting services. This vision has now grown through the formation of the group to provide , insurance services, construction services, logistics, security services, manufacturing, farming, mining, power generation & Supply, engineering services & Skills Development and Enterprise
Development
We pride ourselves on all the service packages that we provide, and we also display our commitment in training young graduates who want to qualify as accountants. We are an equal opportunity and socially responsible employer, committed to the promotion of small and medium-sized business in South Africa.
We are advocates of Black Economic Empowerment not only by lip service but by acting towards realization of the vision of the South African Institute of Professional Accountants of increasing the number of skilled black accounting firms.
Our Strengths
Our strength lies with our determination to provide excellent services at competitive costs.
We ensure value for money in all the services that we render.
We are driven by the understanding of our client's expectations which fuels our requirement for performing beyond expectation.
Provision of services that add value is our primary goal when doing business with our clients. We also desire "Clients' satisfaction at all times".
Through experience, and the corporate network we have developed, we regarded as the go-to group for the provision of
Group Members
| | |
| --- | --- |
| | Mfuyi Business Services |
| | Executive Financial Brokers |
| | Quartex Technologies |